Replacement Window Installation for Council Bluffs, IA, Residents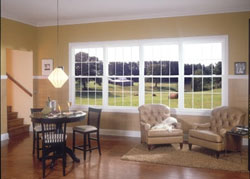 ABC Seamless is proud to provide homeowners in Council Bluffs, Iowa, with an amazing replacement window product line. What makes these windows unique is that the frames are made using a blend of polymer composites, which makes them 400 percent stronger than those made of vinyl. If you are looking for windows that are going to truly last, then these are the ideal windows for you.
On top of their outstanding durability, our replacement window products provide many benefits to homeowners, including:
Energy efficiency – Our windows are ENERGY STAR® approved—they will reduce heat transfer and keep your HVAC system from working as hard to control your home's temperature.
Low maintenance – Because of their incredible strength and durability, composite replacement window products won't rot, crack, or fade over time, so you don't need to worry about making repairs.
Security – These windows boast a multitude of safety features, like a three-point precision locking system, steel locking bars, and an additional steel security lock, so you can sleep soundly at night knowing your family is well protected.
Aesthetic options – Since you can choose from a wide range of styles, interior and exterior finishes, hardware options, and decorative glass choices, you're sure to create a unique look that complements your home and your personal preferences.
At ABC Seamless, we don't just sell replacement window products; we also provide exceptional installation services. Homeowners in southwest Iowa have trusted us with their home improvement needs for more than 20 years because they know they can rely on us to get the job done quickly and efficiently. We have earned an A+ rating from the Better Business Bureau and Qualified Remodeler magazine has ranked us among the top 500 remodeling firms in the entire country.
If you would like more information about our replacement window products, please contact us today.