A Pergola from ABC Seamless of Nebraska Can Transform the Outdoor Living Space of Your Omaha, NE, Area Residence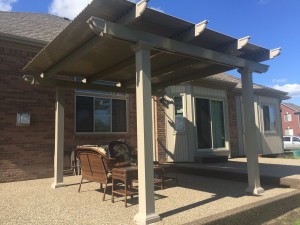 A pergola can provide protection from the sun for an outdoor living space at your Omaha, Nebraska, home. At ABC Seamless of Nebraska, we carry pergolas from TEMO, a leading industry name, and thanks to the different available styles – which include free standing, garden arbor, and attached – you can have an exceptional pergola covering your deck, patio, garden, the entryway to your Omaha, NE, home, or virtually any other area of your property.
The features that make a pergola from ABC Seamless of Nebraska exceptional include:
Durable aluminum material – Our pergolas are crafted from heavy-duty extruded aluminum that can withstand the elements, making them stable and safe structures.
A curved lattice roof – This roof style provides better protection from than sun than the roof types of other pergolas.
Stylish columns – Any of our pergolas that you order will have beautiful columns inspired by Italian architecture for an impressive aesthetic. You can choose from Florentine, Roma, or Venetian column designs.
ABC Seamless of Nebraska will also take care of the installation for your pergola. All our installers are trained on proper installation methods and best practices, and they will be led by one of our certified production managers, who will help make sure exact processes are being followed. The production manager will also do a final walkthrough once your project is finished to make sure that your pergola has been installed properly.
If you would like a beautiful and long-lasting pergola for your home in or around Omaha, NE, contact ABC Seamless of Nebraska today. In-house financing options – including zero interest financing – are available, if you qualify, to help make purchasing one of our pergolas easier.