Pergola Products and Installation from ABC Seamless of Nebraska for La Vista, NE, Homeowners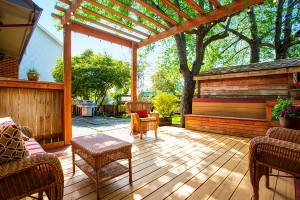 When you order a pergola from ABC Seamless of Nebraska for your residence in La Vista, Nebraska, you will receive assistance every step of the way. We have a friendly staff that can answer any questions you have about our pergolas and help you select the one that's ideal for your unique outdoor living space. Professional installation will also be available, and the technicians completing your project will be factory trained and overseen by a certified production manager, ensuring that your pergola is installed the right way.
At ABC Seamless of Nebraska, we only carry top-of-the-line products and that's why we offer TEMO pergolas for residents of La Vista, NE, and surrounding areas. With a TEMO pergola, the benefits you can look forward to include:
Exceptional sun protection – The curved lattice roofs of our pergolas provide sun protection that's better than that of many other products on the market, whether the pergola is covering your pool deck, the entryway to your home, or your garden.
Long-lasting strength – Built with heavy-duty extruded aluminum, our pergolas resist rot and damage from the elements and don't become infested with termites. This durability means that your pergola will last for many years.
Beautiful appearance – You'll have the option of choosing Roma, Florentine, or Venetian style columns that are inspired by Italian architectural history and will look elegant in the outdoor space of your home.
If you would like a TEMO pergola to provide shade for your residence in La Vista, NE, contact ABC Seamless of Nebraska today. Great financing options are available, if you qualify, that can make purchasing one of our pergolas fit more easily into your budget.