A Pergola Can Beautify an Outdoor Space of Your Kearney, NE, Area Home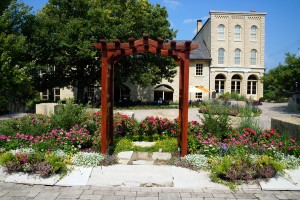 With a pergola from ABC Seamless of Nebraska, you can define an outdoor living space for your Kearney, Nebraska, home and give the space a beautiful and stylish appearance. Because we offer TEMO pergolas in all available styles – free standing, garden arbor, attached – you'll be able to define virtually any type of outdoor space, including home entryways, pool decks, garden, a patio, a deck, and more. And, you can choose either Roma, Venetian, or Florentine columns to give your pergola an impressive look that's inspired by Italy's rich architectural history.
You can also be confident that any pergola you order from ABC Seamless of Nebraska will look great on the property of your Kearney, NE, area home because it will be installed by our expert technicians. Installation is always completed properly by our technicians because they:
Are factory-trained on how to install our TEMO pergolas
Follow our set procedures and best practices to make sure that everything gets done properly
Are overseen by one of our certified production managers who will make sure that everything is done according to plan and on schedule
Once your pergola is erected, you'll be able to enjoy it for many years to come because it will be manufactured with a long-lasting, heavy-duty extruded aluminum material. Thanks to this material, you don't need to worry about your pergola rotting, deteriorating, or becoming infested with termites. Little to no maintenance is required, as well. What's more, a TEMO pergola is built with curved lattice roofs, which offer better sun protection than the roofs of other pergolas.
If you would like us to install a beautiful TEMO pergola over an outdoor space at your home in or around Kearney, NE, contact ABC Seamless of Nebraska today. Be sure to ask if you're eligible for our no-interest financing option.