A Pergola from ABC Seamless of Nebraska Can Beautify an Outdoor Space of Your Grand Island, NE, Area Home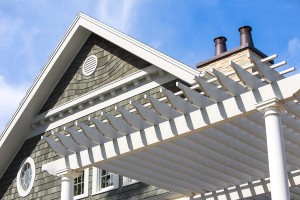 Do you want a pergola to provide shade and define an outdoor living space for your home in the Grand Island, Nebraska, area? If so, then you need to turn to ABC Seamless of Nebraska. The TEMO pergolas that we carry are beautiful outdoor structures that will stand tall for years to come, and they are available in gorgeous Roma, Florentine, or Venetian designs that are inspired by Italy's rich architectural history. Manufactured from durable, heavy-duty extruded aluminum, our pergola products are built to withstand the elements and require little to no maintenance.
The pergola products available at ABC Seamless of Nebraska can be erected over many different outdoor areas of your residence in or around Grand Island, NE. Examples of places you can have one of our pergolas installed include:
The entranceway to your home
Pool deck
Garden
Patios
Decks
And more
At ABC Seamless of Nebraska, we always have our factory-trained professionals install our pergola products. Under the direction of one of our production managers, they will follow our exact processes and best practices to install your pergola. Quality control checklists will also be followed to ensure proper installation. And, you can have peace of mind about the investment you're making in your home because all TEMO pergolas are backed by a limited lifetime transferrable warranty.
Contact ABC Seamless of Nebraska today if you would like an exceptional TEMO pergola to define an outdoor living space of your home in Grand Island, NE, or a nearby community. Financing options are available to qualified homeowners to make purchasing one of our pergolas easier.