Let a Pergola from ABC Seamless of Nebraska Define the Outdoor Living Space of Your Bellevue, NE, Home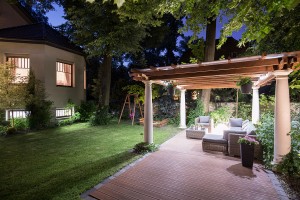 With a pergola from ABC Seamless of Nebraska, you can create an enjoyable outdoor living space for your residence in Bellevue, Nebraska. Pergolas provide protection from the sun and provide a place where you can relax on your own or with family and friends. The TEMO pergolas you'll find at ABC Seamless of Nebraska provide some of the best sun protection available among pergola products thanks to their curved lattice roofs, which help block sunlight better than similar products.
In addition to curved lattice roofs, a TEMO pergola has a number of other excellent features and architectural options, including:
Durable aluminum material – Homeowners can feel confident that their pergolas will stand tall for years because they are constructed from heavy-duty extruded aluminum, which withstands wind, rain, and whatever else Mother Nature throws at them.
Different styles – We carry freestanding, garden arbor, and attached pergola types so that homeowners can find pergolas that suit their needs for their outdoor spaces, whether they want shade for the entryways of their homes, their gardens, or their decks and patios.
Gorgeous columns – TEMO pergolas have beautiful columns in Roma, Florentine, and Venetian designs that add a touch of Italy's rich architectural history to each homeowner's outdoor space.
One of our consultants will meet at your Bellevue, NE, residence to help you choose the pergola that's right for you. After you select one of our pergolas, we will also take care of taking measurements, as well as ordering it and installing it. Under the leadership of one of our production managers, our factory-trained technicians will utilize our exact processes and quality control checklists to erect your pergola properly.
Contact ABC Seamless of Nebraska today to schedule an appointment with one of our consultants to learn more about the TEMO pergola products we install for Bellevue, NE, residents. Be sure to ask if you qualify for our helpful financing options.