Custom Patio Enclosures for Homeowners in Lincoln, NE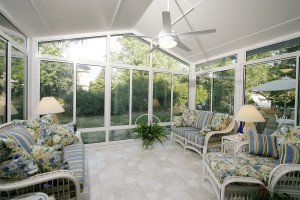 ABC Seamless of Nebraska specializes in creating custom patio enclosures for homeowners in Lincoln, Nebraska, who want to enjoy outdoor scenery throughout the year. Whether you would like to enclose an existing patio overhang or build an enclosure from scratch, we'll supply a solution that suits your needs, taste, and home. You'll get to choose from many styles of patio enclosures to select an option that fits your vision for your residence, and no matter which style you choose, you can depend on our expert team to build it in a way that complies with all building codes in Lincoln, NE.
Compared to other patio enclosures on the market today, ours have many features that make them the ideal choice for your home. Some benefits of our enclosures include:
Custom-sized wall heights and widths will ensure that the enclosure blends seamlessly with the architecture of your home
The resilient materials we use will withstand a full range of weather conditions without warping, fading, or cracking
Insulated walls will support a comfortable temperature inside of the enclosure, so you and your family can enjoy the space year-round
Special glass coatings will let in abundant natural light while filtering the sun's harmful UV rays
To add an appealing, highly functional new living area to your home, contact ABC Seamless of Nebraska today. When you do, ask how our financing options for patio enclosures can make your dream addition to your home in Lincoln, NE, a reality.