For Top-of-the-Line Patio Covers, Homeowners in the Kearney, NE, Area Turn to One Company ­– ABC Seamless of Nebraska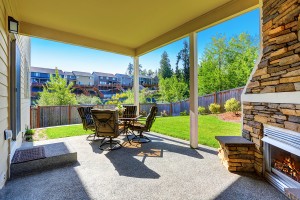 If you're researching your options for patio covers for your home in the Kearney, Nebraska, area, then look no further than ABC Seamless of Nebraska. We make our customers' happiness a top priority, and we'll work hard to make sure you're completely satisfied at every stage of the process of getting a patio cover for your home. After you experience our customer service and have one of our exceptional patio covers installed on your Kearney, NE, area residence, you'll understand why we have an A+ rating with the Better Business Bureau.
The patio covers you'll find at ABC Seamless of Nebraska are manufactured by TEMO, which is one the leading producers in the industry of outdoor living products. Since these are such well-engineered products, they provide fantastic benefits, including:
Protection from the sun and rain – With a TEMO patio cover, you can count on reliable protection from the sun's heat and UV radiation, as well as rain and inclement weather, so you can get more use from your patio space.
Little to no maintenance – Constructed from durable materials, our patio covers won't rot, deteriorate, or become infested with termites, which means they will stand for years to come. You also won't have to worry about annual maintenance, making them hassle-free.
Aesthetic customization – You'll be able to customize any patio cover you order so that it suits your aesthetic preferences and architectural style of your home. For the columns, you'll be able to choose from one of three styles – Roma, Venetian, Florentine – as well as different cover styles, including California, cathedral, conservatory, and studio.
Installation of your patio cover will be completed by a team of our factory-trained technicians. These professionals are trained on how to follow our best practices and exact processes to properly install TEMO patio covers. One of our certified production managers will also oversee the entire project to make sure that everything is completed as planned and according to schedule.
To speak with one of our associates and learn more about the patio covers that we offer to residents of the Kearney, NE, area, contact ABC Seamless of Nebraska today.