Patio Covers from ABC Seamless of Nebraska Help Protect Residents of the Council Bluffs, IA, Area from Mother Nature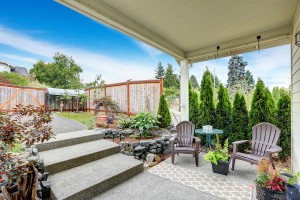 TEMO patio covers from ABC Seamless of Nebraska can transform the patio of your home in or around Council Bluffs, Iowa, from a place that becomes oppressively hot on a summer day to a space that's a cool oasis amid the summertime heat. You and your loved ones can have fun and relax while you barbeque or just spend time together without having to worry about the sun's harmful UV radiation. A TEMO patio cover will also keep the rain away and your outdoor space dry, so you won't have to cancel any parties or social events, even if the weather is stormy outside.
You'll be able to enjoy this protection from the elements for the outdoor space of your Council Bluffs, IA, area home relatively hassle-free because TEMO patio covers:
Don't become infested with insects, such as termites, thanks to their durable aluminum material
Won't corrode or deteriorate due to weather exposure
Need virtually no annual maintenance, unlike many other patio cover products available on the market
TEMO patio covers from ABC Seamless of Nebraska can also be customized to match the architecture and aesthetics of your home, and you can choose beautiful styles, such as California, cathedral, conservatory, studio, and others. Roma, Florentine, and Venetian column styles are also available for our patio covers, all of which take inspiration from Italy's rich architectural history.
Whatever type of patio cover you choose, our team of factory-trained technicians will be able to install it for you. One of our production managers will also oversee your project to ensure proper installation. What's more, all TEMO patio covers are covered by a Limited Lifetime Transferable Warranty, so you can have peace of mind about your investment in your home.
To start the process of having one of our TEMO patio covers installed on your Council Bluffs, IA, residence, contact ABC Seamless of Nebraska today. We offer excellent financing options for homeowners who qualify, helping to make your patio cover purchase a better fit for your budget.