How Modern Windows Can Help Make Your Home in Omaha, NE, More Energy Efficient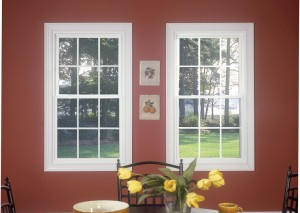 Modern windows feature an array of energy-saving components that can help keep heat in your Omaha, Nebraska, home during the winter and out during the summer, as well as prevent drafts and moisture infiltration year-round. By enhancing the thermal performance of your residence, quality windows can reduce the burden placed on your HVAC system and help you achieve energy savings.
One of the most notable features of modern windows, compared to windows of the past, is their inclusion of multiple panes of glass, which act as a significant barrier against heat transfer. These panes aren't made of just any type of glass – rather, they are made of advanced low-emissivity glass, which features a layer of metallic particles so thin that it can't be seen with the naked eye. This special window treatment will reflect excessive solar rays while still allowing abundant natural light to pass through the modern windows and into your Omaha, NE, home.
To further insulate the glass unit, most multi-paned modern windows also include an inert gas fill, such as argon fill, in between the panes because these gas fills insulate the space better than regular air can. Warm-edge spacers will contain the gas fill, hold the glass unit together, and also insulate the perimeter of the window pane, which is otherwise the coldest part of the glass.
If you would like to make your home more energy efficient with modern windows, and you live in the Omaha, NE, area, you can count on ABC Seamless of Nebraska to install some of the most advanced windows available. Unlike most window companies, we install windows made with innovative composite frames, which boast thermal performance that is superior to that of windows made of vinyl, aluminum, and wood. To schedule a free in-home consultation with one of our knowledgeable window consultants, contact ABC Seamless today.