The Benefits of Metal Roofing by ABC Seamless for Homeowners in Omaha, NE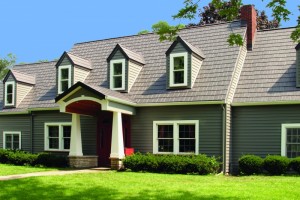 Metal roofing by ABC Seamless of Nebraska outperforms ordinary asphalt roofing in all respects. While you would likely need to replace an asphalt roof after 10 to 15 years, our steel roofs will last up to 50 years. This means that choosing a new metal roof for your home in Omaha, NE, would likely spare you from ever needing to buy another roof again. Plus, we offer many different types of stunning slate- and shingle-style roofs, which can greatly enhance the curb appeal of any home.
Longevity and beauty aside, many other qualities make our metal roofing an excellent choice for your home in Omaha, NE. Some additional benefits of our steel roofs include:
Wind resistance – Our roofs will endure winds as strong as 160 mph, so they will stand strong despite even the most extreme weather conditions.
Fire protection – With a fireproof steel roof on your home, you can rest easy knowing that it will endure contact with fireworks, embers from a fire pit, and other fire hazards without cause for concern.
Thermal efficiency – Innovative cool-roof technology will help support a stable temperature in your home, so you can reduce your heating and cooling costs.
Impact resistance – Our metal roofing has a Class 4 rating – the highest level of impact resistance available – which means it excels at withstanding damage caused by airborne debris.
If you want beautiful metal roofing that will block out even the harshest weather conditions, contact ABC Seamless of Nebraska today. We'll gladly schedule a free in-home consultation at your residence in Omaha, NE, at your convenience.