Choose Metal Roofing by ABC Seamless for Your Home in La Vista, NE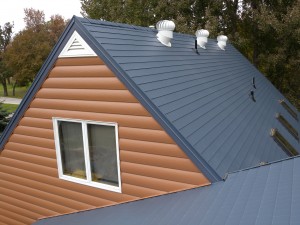 If you want metal roofing that looks beautiful and provides the best possible protection for your home in La Vista, turn to ABC Seamless of Nebraska. We offer metal roofing that emulates shingle- and shake-style roofs, so you can have a classic-style roof that has state-of-the-art strength. You will also get to choose from many beautiful colors for your roof, including more than 10 ENERGY STAR® certified colors that can help reduce heat gain in your attic during the warm summer months, supporting a comfortable indoor temperature. The paint that we use to create our roofs will not fade either, ensuring that your roof will retain its stunning color year after year.
In terms of strength, nothing beats a steel roof from ABC Seamless. Our metal roofing:
Lasts up to 50 years, two to three times longer than an ordinary asphalt roof
Requires virtually no maintenance, sparing you the expense that comes with roof repairs
Protects against leaks better than other types of roofs, safeguarding items in your La Vista, NE, home against water damage
Withstands winds up to 160 mph, ensuring that your roof will remain intact despite extreme weather
Resists burning when exposed to fire hazards
If you want the best possible roof for your home – and never want to have to re-roof your home again – contact ABC Seamless of Nebraska today. We proudly provide premium metal roofing for homeowners in La Vista, NE.