Metal Roofing – Hasting, NE
High-Quality Metal Roofing for Hasting, NE, Homeowners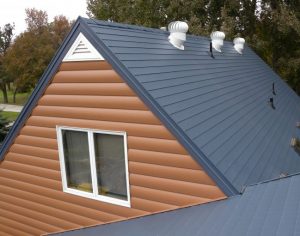 If there is one single element of your home that protects it more than anything else, it's the roof. When it comes to ensuring peak performance and protection for your home, roofing material matters. That's why investing in metal roofing could be the greatest decision you ever make regarding your home. If you're looking for premium quality metal roofing and an impeccable installation expert, then you need ABC Seamless of Nebraska. We're the area's most trusted roofing and siding company, and are delighted to bring Hasting, Nebraska, homeowners the pleasure of a permanent roofing solution that looks just as stunning as it performs!
What Makes Metal Roofing Ideal?
Asphalt shingles are typically seen as the go-to product for any roofing job, but the truth is they are prone to degradation over time. Sun exposure, precipitation, and harsh winter weather will cause the shingles to crack, buckle, disintegrate, and fall off, which could cause leaks in your home! Metal roofing on the other hand, offers a variety of enhancements over shingles, such as:
Increased durability – Our roofing is made from heavy-gauge galvanized steel so it can stand up to any weather, precipitation, or stress.
Energy-efficiency – Our metal roofing reflects heat, lowering the burden on your HVAC systems and helping you use less energy and possibly saving on your monthly bill!
Superior appearance – Our roofs look just as good as they perform! Metal roofing from ABC Seamless of Nebraska can mirror the look of asphalt shingles, wood shakes, or slate roofing, without their functional drawbacks.
The Area's Premier Metal Roofing Company
Steel roofing installation requires professional expertise and specialized equipment, so you need a roofing company that won't cut corners on materials or labor. When you choose ABC Seamless of Nebraska, you'll be rewarded with high-quality metal roofing that lasts for decades. Contact us today to learn more about the services we offer to homeowners in Hasting, NE, and surrounding areas.