Metal Roofing Company Grand Island
Grand Island, NE's Expert Metal Roofing Company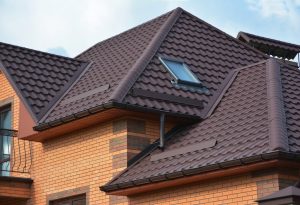 Your home's roof is perhaps the single most important element of protection against the great outdoors, and because of this, you should utilize the best materials available to ensure its function and longevity. That's why investing in a seamless steel roof could be the greatest homeowning decision you ever make. If you're looking for a metal roofing company that can deliver a premium roofing product and an impeccable installation, then you need the experts at ABC Seamless of Nebraska. We're the area's most trusted roofing and siding company, and are delighted to bring Grand Island, NE, homeowners the pleasure of a permanent roofing solution that looks just as stunning as it performs!
What Makes Steel Roofing Ideal?
Traditional asphalt shingles are prone to degradation over time. The combination of intense sun exposure, precipitation, and harsh winter weather will cause the shingles to crack, buckle, disintegrate, and fall off over time, which could cause leaks in your home! Steel roofing on the other hand, offers a variety of enhancements, such as:
Better durability – Our roofing is made from heavy-gauge, G-90 galvanized steel. That means it can stand up to any weather, precipitation, or stress.
Energy-efficiency – Unlike traditional roofing, our metal roofing reflects heat to alleviate stress on your HVAC systems, helping you use less energy and possibly saving on your monthly bill!
Superior appearance – Our roofs look just as good as they perform! Metal roofing from ABC Seamless of Nebraska can mirror the look of asphalt shingles, shakes, or slate roofing without their functional drawbacks. We also offer a variety of color options so that you can find the right look for your home.
The Area's Premier Metal Roofing Company
Steel roofing installation requires professional expertise and specialized equipment. You need a metal roofing company that won't cut corners on materials or labor. When you choose ABC Seamless of Nebraska, you'll be rewarded with an unbeatable metal roofing company that prioritizes customer service and quality installation above all else. Our commitment to service is precisely why we've been the area's most trusted roofing and siding company since 1972, and our A+ Better Business Bureau rating is testament to our dedication to customer satisfaction. Contact us today to learn more about the services we offer to homeowners in Grand Island, NE, and surrounding areas.