A Metal Roof Installed by ABC Seamless is the Ideal Choice for Your Home in Omaha, NE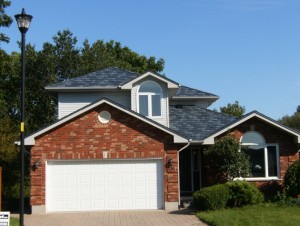 One metal roof company stands out as the specialist to call when you want to upgrade the roofing on your home in Omaha, Nebraska – ABC Seamless of Nebraska. We offer premium steel roofs and expert installations, ensuring that the roof we install will last a lifetime. Some of the benefits of our steel roofs include:
Superior protection – Crafted from the finest materials, the metal roof we install will have Class 4 impact resistance, 160 mph wind resistance, fire resistance, and many other qualities that will enable it to withstand whatever Mother Nature throws its way.
Energy savings – While an ordinary asphalt roof would allow lots of solar heat to enter your home during the hot summer months, our cool-roof technology will deflect solar rays, helping to support a comfortable indoor temperature and energy savings.
Extensive design options – You'll get to choose from shake and slate styles, as well as a vast array of colors to select a metal roof that will look stunning on your home in Omaha, NE.
Long-lasting beauty – Non-fade paint will ensure that your metal roof will retain its beautiful color year after year. Plus, unlike roofs made of lesser materials, your roof will resist warping, splitting, peeling, and cracking.
By providing our customers with phenomenal value for their money and an all-around positive customer experience, we earn a great deal of repeat and referral business. As a result, we've grown to become one of Qualified Remodeler's Top 500 Remodelers in the U.S. Our A+ rating with the Better Business Bureau also speaks to our record of customer satisfaction.
To find the ideal metal roof for your home, contact ABC Seamless of Nebraska today. We can also arrange financing for qualified customers in Omaha, NE.