House Siding Options for Wood River, NE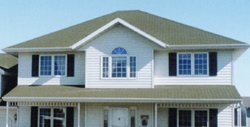 If the time has come to install new siding on your Wood River house, then there's just one name you need to remember: ABC Seamless. Since 1996, we have installed seamless siding on countless homes throughout the Wood River area. There are many reasons we are the siding contractor of choice in Central Nebraska. For one, our siding is custom cut to the measurements of each home, so when we say our siding is "seamless," we're serious – each piece is cut to precisely the length necessary to cover your home, from corner to corner, without a single seam on any wall.
Here are several other benefits you will enjoy when you choose ABC Seamless to be your siding contractor:
Our siding is made of 28-gauge steel, which won't fade like wood shake, expand or contract like vinyl, and is stronger than any other material in the industry today.
We offer siding in a wide array of 27 beautiful colors and 15 handsome styles, ensuring that our siding will complement the exterior appearance of your home and suit your personal tastes in aesthetics.
ABC Seamless siding requires virtually no maintenance, save for an occasional rinsing with a hose.
We offer a lifetime warranty on our siding that covers it against peeling, fading, and rusting.
We are committed to installing the highest-quality siding and providing service that is simply second to none, and these are just two reasons we have earned an A+ rating from the Better Business Bureau as well as a Top 200 Exterior Contractor ranking from Qualified Remodeler.
If you want to learn more about the custom house siding solutions we offer Wood River, Nebraska, residents, contact ABC Seamless today. We will gladly provide a free, no-obligation quote and answer any questions you may have about our siding.