House Siding for Plattsmouth, NE, Residents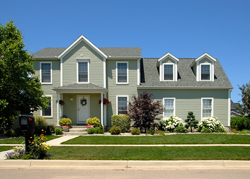 Are you in need of house siding for your Plattsmouth, Nebraska, home and want a product that is highly attractive and durable? Look no further than ABC Seamless for a beautiful siding product that will last for the life of your home. Our siding is made of tough, 28-gauge steel, which makes our product much stronger than vinyl siding, and it's also resistant against rusting, fading, warping, peeling, or cracking.
In addition to outstanding strength, another reason to choose us as your siding contractor is that our product is truly seamless. While most siding products that claim to be seamless actually come in 12-foot or 24-foot lengths, we custom make our siding so it perfectly fits your home's walls, eliminating any splices. Not only does our seamless siding look more beautiful than typical siding, but it also offers superior protection against the penetration of wind-driven rain and snow.
Our house siding offers Plattsmouth homeowners several other benefits, including:
Plethora of color choices – You can choose from more than 30 colors to complement the look of your home
Multiple styles – Our siding is available in 15 attractive profiles
Maintenance free protection – You'll never need to paint, scrape, or treat your siding for as long as you own your home
We also offer exceptional customer service and will not rest until you're completely happy with the job we've performed. As a testament to our longstanding commitment to offering high-quality products and outstanding service, we've earned and maintained an A+ rating from the Better Business Bureau and a Top 500 rating from Qualified Remodeler.
Contact us today for more information about our house siding for Plattsmouth, NE, homeowners. As you outfit your home with new siding, you may also want to consider our other products, including window replacements and sunrooms.