House Siding for Omaha, NE, Residences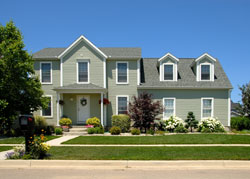 ABC Seamless is the expert provider of seamless steel house siding in Omaha, Nebraska. Unlike many other contractors, we don't work with pre-cut panels—we custom cut our steel onsite and shape it to fit seamlessly on each customer's unique home. With seamless siding, your home will be protected from damaging winds, rain, and uninvited vermin.
In addition to being seamless, steel house siding from ABC Seamless is superior to siding made of other materials, such as vinyl or wood, for many reasons. Our siding is:
Durable – Steel is incredibly strong and can last indefinitely.
Low maintenance – Unlike other materials that can warp, bend, crack, or become brittle, steel will stand the test of time and won't require repairs. Plus, you won't have to repaint it because the color won't fade or chip.
Attractive – Steel siding can look every bit as beautiful and welcoming as siding made from natural wood or other materials. Our siding in available in a wide range of colors and styles.
Backed by an outstanding warranty – We stand behind our house siding with a transferable lifetime warranty that covers rusting, peeling, cracking, fading, and even hail damage.
Homeowners in and around Omaha have trusted ABC Seamless with their home improvement needs for more than 20 years now. When you work with us, you can expect quality materials and meticulous craftsmanship from experienced professionals. We maintain an A+ rating with the Better Business Bureau, and we are proud that Qualified Remodeler has listed us as a Top 200 Exterior Contractor.
For more information about our seamless house siding for Omaha, NE, residents, please contact us today. Don't hesitate to inquire about any other home improvement needs you have, as we also provide many other products, including window replacements, roofing, and sunrooms.