Gutters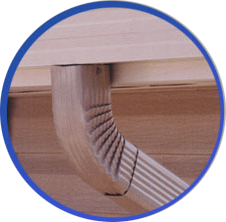 ABC Seamless uses the same SEAMLESS technology with our siding and custom fits seamless gutters right at your home. Plus you can coordinate the color of your gutters with your siding because they are made from the same high-quality materials!
Consider the ABC Seamless Designer Gutter when replacing your gutters. It carries away 23 percent more water than the old style gutter. Also, its unique design blends into your home's exterior.
The Designer Gutter is durable. We've all seen how easily some gutters get damaged by ladders and trees, that's why our seamless gutters are made from steel.
The appearance of your home is important. We use "hidden gutter hangers" to fasten the gutter to your home. The hangers are "hidden" from view on the outside, giving your home the clean, SEAMLESS look. Plus, they're stronger than the traditional methods.
You can finish your project with metal soffit and fascia from ABC Seamless making your home not only beautiful, but 100% maintenance-free!
For more information on gutters call (402) 391-4500 in the Omaha area or (800) 825-3360 in Central Nebraska