The Right Exterior Siding for Omaha Homeowners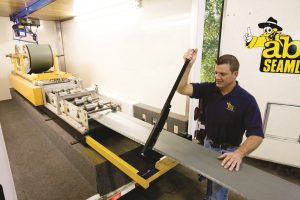 Are you thinking about changing the exterior siding on your Omaha, Nebraska, home? Has your previous siding been damaged or destroyed? Are you tired of having to repaint your home or make costly repairs to its façade? If you want an exterior siding that is safe, reliable, and guaranteed to stand the test of time, then there's only one material you should consider: steel. Steel siding by ABC Seamless of Nebraska has been the exterior of choice for Omaha, NE, homeowners for more than 30 years because of its many beneficial qualities.
What Makes Steel the Superior Exterior?
The word "steel" conjures images of strength and durability, two characteristics that remain embodied in our siding. Our siding is crafted from 28-gauge steel, ensuring your home will reap the benefits of the most important attribute of steel siding: how long it will last. Thanks to modern, high-performance finishes, the cladding made by ABC Seamless of Nebraska can be expected to last for decades if properly maintained. This longevity is the reason that we can offer such extensive warranties on our exterior siding. These warranties cover both the appearance and the structure of the siding, ensuring that your home will be protected and look great for many years to come.
Our siding is also the only truly seamless option available. Shaped and cut to the exact dimensions of your house while we're on site, our seamless siding makes it nearly impossible for water, wind, or pests to get to the frame of your home. Combined with proper insulation, steel becomes one of the most energy-efficient choices you can make for exterior siding. And in places like Omaha, where your home will experience a wide range of temperatures over the course of a year, steel siding is a fantastic choice because it won't be damaged by temperature-based expansion or contraction.
Why Turn to ABC Seamless of Nebraska?
For improvements such as new exterior siding, new roofing, and new gutters for your Omaha home, you have plenty of choices when it comes to contractors. So what sets ABC Seamless of Nebraska apart as the premier among them?
For one, we've maintained an A+ rating with the Better Business Bureau over the years, a presitigous accolade that only the best home improvement contractors can tout. That's in addition to our excellent reputation among local Omaha homeowners; if you need a recommendation for the best steel siding installer in the area, you need only look to your neighbor, who has likely worked with us in the past.
We have decades of experience in crafting and installing top-notch seamless steel siding on Nebraska homes, earning us the expertise you can rely on for a job well done. All of our specialist installers are supervised by certified production managers who keep a detailed quality control checklist throughout every siding installation project to ensure flawless craftsmanship. In fact, we're so confident in the quality of our steel siding that we stand by it with a guarantee. When you turn to us for new exterior siding at your Nebraska home, you can trust it'll be the last siding your home ever needs.
Deciding on Steel Siding
As your one-stop shop for all your home improvement needs, we offer in-house financing, simplifying the home improvement process for you. You can expect no payments and no interest for 12 months, making your goals of enhancing your Omaha, NE, home's curb appeal and energy efficiency more tangible than ever
For all your steel siding needs, ABC Seamless of Nebraska is here for you. Our decades of experience and commitment to customer service are evident in the hundreds of satisfied customers we have in Omaha, NE. For any questions about exterior siding or the other services and products we offer, contact us today.