Energy-Efficient Windows Offer Omaha, NE, Homeowners Lasting Benefits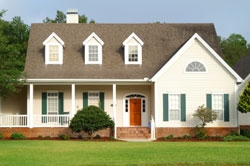 Are you looking for energy-efficient windows that will help keep the inside of your Omaha, Nebraska, home more comfortable throughout the year and potentially save you money on your energy bills? If so, then the only name you need to remember is ABC Seamless of Nebraska, a home improvement company that's been serving local homeowners since 1989. Our company is focused on offering homeowners a multitude of energy-efficient windows to help fend off the rising costs of heating and cooling a home and keep the temperature inside your home more stable. Our windows feature triple-pane windows with gas fills that will significantly reduce heat transference, helping to keep the inside temperature of your home more comfortable without added strain on your HVAC equipment. This, in turn, could translate to lower energy costs.
While lower energy costs and improved comfort are two great reasons to choose our energy-efficient windows for your Omaha home, another important benefit of choosing us over our competitors is that we have a team of highly skilled professionals who will ensure your windows are installed properly. Our highly skilled crew will ensure that your windows fit your home's window openings perfectly, which will help to virtually eliminate air drafts into the home and maximize your energy savings.
At ABC Seamless, we are proud to stand behind every window we install with a 50-year, transferable warranty, which can help protect your investment and ensure many years of worry-free operation. Our commitment to installing energy-efficient windows and providing our customers with an excellent experience has helped us maintain an A+ rating from the Better Business Bureau.
For more information, contact ABC Seamless today. We can tell you much more about our energy-efficient windows and will gladly provide you a complimentary quote on the installation of our state-of-the-art windows on your Omaha, NE, home.