Gorgeous, Energy-Efficient Double-Hung Windows for Homeowners in Wood River, NE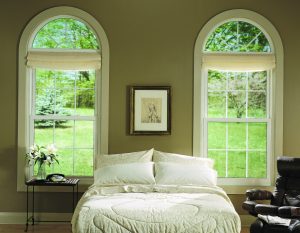 If you're looking for new double-hung windows for your home, you can stop your search now and turn to the experts at ABC Seamless of Nebraska. We know that while most homeowners aren't exactly looking forward to a window replacement, it is the perfect opportunity to make an upgrade that enhances and beautifies any home for years to come. That's why we're dedicated to providing our customers in Wood River and throughout Nebraska with the highest quality double-hung windows and outstanding installations for gorgeous, long-lasting results.
Why Choose Our Double-Hung Windows?
With an attractive appearance and easily operable design, it's no wonder why double-hung windows consistently remain a popular replacement window style. At ABC Seamless of Nebraska, our double-hung windows are:
Energy Efficient
With foam insulation to dramatically increase thermal efficiency, advanced weather-stripping to prevent air infiltration, and energy-efficient glass to limit heat transfer, our double-hung windows will help to reduce the strain on your HVAC system and, in turn, possibly even lower your energy bills.
Durable
Thanks to premium vinyl frames, these industry-leading windows are built to last even through extreme weather conditions, and feature the manufacturer's proprietary thin wall spacer to create a metal barrier that resists condensation and enhances durability. The energy-conserving uPVC materials used in the construction of these windows also last longer than other options on the market.
Low Maintenance
A state-of-the-art balance system makes our windows operate smoothly without ever requiring lubrication or adjustment. In addition, the vinyl frames require dramatically less maintenance than traditional frames made of wood or other materials.
An Expert Installation
When you choose ABC Seamless of Nebraska to handle your window replacement project, you can trust that the installation will be completed by our team of skilled and trained experts who always adhere to our high workmanship standards. Contact us today to learn more about the double-hung windows we can install at your Wood River, NE, home.