Double-Hung Windows Grand Island
Beautiful Double-Hung Windows for Grand Island, NE, Homeowners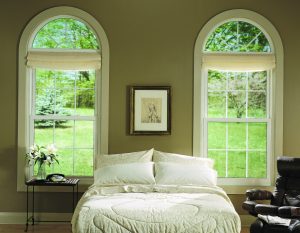 Are you looking to replace your home's double-hung windows? Whether your windows are falling apart or starting to show their age, replacing them can be one of the greatest investments you make for your home. ABC Seamless of Nebraska is proud to offer elegant new vinyl windows to homeowners in Grand Island, NE. With new double-hung windows, your home will look better and perform better than ever before!
Benefits of our Double-Hung Windows
Double-hung windows are a classic, time-tested design that looks good on just about any house and in any room! Their popularity means that most renovators will carry them, however, not all windows are created equal. If you want the best windows for your home, consider ABC Seamless of Nebraska, as our replacement windows offer a variety of benefits such as:
Durability – Our windows are constructed from a specially designed polymer composite that is 400% stronger than typical vinyl, allowing them to handle any weather and all seasons without fail.
Enhanced efficiency – If your energy bill has you feeling down, then these are the windows for you. Our windows are expertly designed to reduce heat transfer and relieve stress on your HVAC system.
Low maintenance – Unlike traditional wood and run-of-the-mill vinyl windows, our replacement windows resist rot, warping, cracking, fading, and peeling. This means you won't have to worry about scraping, sanding, and repainting your windows ever again!
Nebraska's Window Replacement Experts
Replacing your home's double-hung windows requires more than just premium materials; it also takes expert installation. After all, even the best windows won't live up to your expectations if they aren't properly installed. At ABC Seamless of Nebraska, our highly skilled technicians can install your windows so that they perform at their best for years to come. We take pride in our expertise and will go above and beyond to bring you unmatched customer service and professionalism. Contact us today to learn more about our double-hung window installations and other services in Grand Island, NE and surrounding areas.