Why to Choose Casement Windows for Your Home in Omaha, Nebraska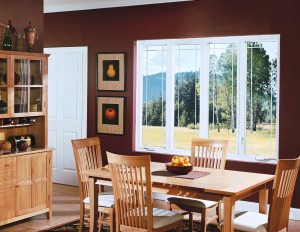 Casement windows are an excellent replacement window option for homeowners in the Omaha, Nebraska, area who value energy efficiency and want windows that will let them easily ventilate their home with fresh air. Casement windows feature a window sash that's hinged to one side of the window frame, and users can rotate an operator handle one direction to firmly close the window or turn it the other way to make the sash open outward away from the home to catch any breeze that passes by.
By letting users seal the window shut against air and moisture infiltration better than any other operable window style, a casement window can do an extraordinary job of helping to regulate the inside temperature of your Omaha, NE, home. Plus, casement windows are available with state-of-the-art energy-saving features, such as triple-paned glass, inert gas fills, composite frames, and warm-edge spacers. These components can help keep your home warmer during the winter and cooler during the summer, thereby reducing your heating and cooling costs year-round.
If you would like to upgrade any of the windows on your home in Omaha, NE, with energy-saving replacement casement windows, contact ABC Seamless of Nebraska today. Our A+ rating with the Better Business Bureau and our long, proud history of serving homeowners in this area make us your best choice to complete this important enhancement of your home. Plus, with us, you can rest assured knowing we complete every window replacement with our highly trained professional installers, not subcontractors, and our windows come backed by extraordinary 50-year warranties.