Bow Windows – Grand Island, NE
Gorgeous Bow Windows for Homes in Grand Island, NE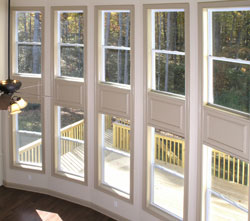 When it comes to adding unique character and charm to your home design, few windows are as appealing as bow windows. Like their companion, the bay window, bow windows protrude from the exterior of your property instead of running flush with the wall. However, while bay windows often feature three openings, with a fixed central picture window and two flanking ones, bow windows feature 4 or more openings. These form a softer curve than the angular design of bay windows. Bow windows have a utilitarian purpose in addition to their aesthetic appeal by expanding the interior area of a room and frequently including a bench outcropping or other seating place. If you want to improve the functionality and aesthetics of your Grand Island, Nebraska, home, bow windows are the way to go!
Benefits of Bow Windows
Bow windows offer more internal space, a range of innovative uses, and illumination and views from numerous perspectives, as well as:
Aesthetic appeal – Bow windows are unique in that they extend beyond the home's outer walls, making them an interesting focal point of the building's overall architecture. This construction can break up otherwise flat exterior walls.
Enhanced views – Thanks to their rounded shape, bay windows offer peripheral views of outdoor spaces.
Functional space – Bow windows are built outwardly from the home's structural walls and can increase the square footage of a room if they are built from the floor's base. A bench seat, on the other hand, might be installed to provide a comfortable place to relax and enjoy the views or read a book!
Why Are Our Windows Superior?
We are happy to install superior vinyl windows at ABC Seamless of Nebraska. These windows, like all of our quality home improvement items, are designed to operate in any environment and last a lifetime! Our windows have ultra-durable vinyl frames with welded corners and several glass panes for greater energy efficiency—essential during our harsh winters.
Call Us Today!
If you're ready to improve the look and function of your home, ABC Seamless of Nebraska is here to assist you! To learn more about our services and organize a complimentary in-home consultation at your Grand Island, NE, home, please contact us now.