How to Choose the Best Replacement Windows for Your Omaha, NE, Home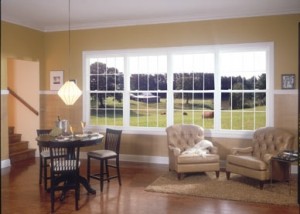 As you search for the best replacement windows for your Omaha, Nebraska, home, you'll have many factors to consider. For starters, you should choose windows that will complement the architectural features of your house. Window styles range from double-hung to casement to bay windows, and the various types will each add to the overall visual character of your house in different ways. To tailor the windows to your personal taste, select the most appropriate interior and exterior finishes for the frames. Decorative grid patterns, which include colonial, diamond, and prairie styles, will also help you to make the windows' design truly yours.
Aesthetic considerations aside, choose windows that boast the thermal efficiency needed to support a comfortable indoor temperature and manageable energy costs for your Omaha, NE, home. The best replacement windows have composite frames, Low-E coatings, two or three panes of glass, inert gas fills, warm-edge spacers, and other energy-saving features, which will minimize the amount of heat that can transfer through the windows, helping to bring your heating and cooling costs under control.
Unless you want to regularly repair your windows to keep them functional and looking appealing, you should also select windows with minimal maintenance requirements. Well-engineered window hardware should last for many years, and the best replacement windows will have strong product warranties backing these components for your peace of mind. By choosing windows with composite frames, you can also free yourself from ever having to paint or stain the windows, and to keep composite windows looking clean, you'll only need to wipe them down with a damp cloth.
If you want windows that offer benefits such as beauty, energy efficiency, and minimal maintenance, look to ABC Seamless of Nebraska, a window replacement specialist that homeowners in the Omaha, NE, area have relied on since 1989. We sell and install state-of-the-art composite windows, which we'll have custom-made to fit your existing window openings. Contact us today to find the best replacement windows for your home.