Beautiful, Energy-Efficient Bay Windows Expertly Installed for Homeowners in Kearney, NE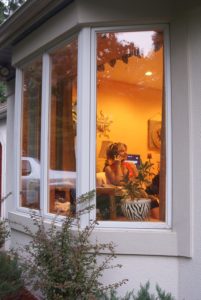 Whether homeowners are replacing an existing bay window or planning to add one for the first time, they're usually excited about the enhanced aesthetic their investment will provide for their home. After all, when it comes to exterior home design, bay windows add a dash of pizzazz that few other upgrades can match. And for the homeowner's indoor area, a bay window can mean extra space for a window seat or shelving.
However, it's important to keep all the other potential benefits of replacing your windows in mind when it's time to choose your new bay windows. Especially for homeowners in the Kearney, Nebraska, area, those benefits include better energy efficiency and weather resistance.
At ABC Seamless of Nebraska, we want our customers to enjoy focusing on the aesthetic appeal of their replacement windows, whether they're choosing bay windows or some other style. Therefore, we've done the necessary homework and selected some of the industry's most durable and energy-efficient windows to install for our customers.
Why Our Bay Windows Are a Cut Above the Rest
The vinyl-frame replacement windows we install in the Kearney area come with foam insulation, enhanced weatherstripping, energy-efficient glass, and other features to ensure superb thermal performance. In fact, the windows we install have been recognized by the ENERGY STAR® program as a "most efficient product." This means you can count on them to help you keep your heating costs in check during our often-frigid winters.
Our bay windows are also engineered with a turnbuckle-and-chain support system to prevent any sagging that can detract from their appearance as well as potentially expose your home to water and air infiltration.
Plus, you'll have lots of customization options to choose from, including a choice of styles to go into your bay window configuration.
Get in Touch to Learn More
If you'd like to explore your options for having ABC Seamless of Nebraska install a beautiful bay window at your Kearney-area home, contact us today to request a free, in-home consultation.